Ikusi is a business group that develops activity in the field of technological engineering and development for digital business transformation. Ikusi focuses its activity around different business areas: 
Integration and Engineering Projects
Specialized Business Solutions  
IT Telecommunications  
Advanced Electronics Technology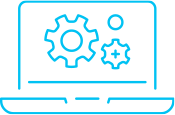 Dolphin Airport Database System
Ikusi's Dophin Airport Database System is an integrated airport information suite responsible for guiding passengers through the airport terminal in an efficient and comfortable way. It is composed of three solutions:  
Flight Information Display System (FIDS) 

Advertising content management System (ADS) 

Automatic Flight Announcement System (AFAS) 
Comcentia is an Ikusi Solutions Certified Partner. Together with Ikusi, Comcentia has expertise in the installation, configuration, and maintenance of the Dolphin Airport Database System.