At Comcentia we believe in growth and fulfillment. We have built our business around those principles and strive every day to deliver on that promise. By joining our team you will become part of a fast-growing technology solutions provider that believes in changing and transforming as fast as the market does.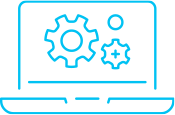 Land a position with Comcentia, and you will enjoy a unique path to career fulfillment. As a Comcentia Employee, you will encounter the real-world challenges of leveraging technology to streamline the workflow and business processes of corporate and institutional clients. However, the best part is that you will be surrounded and supported by talented programmers, web developers, problem-solvers and project managers who can help you develop your skills, and ultimately grow with Comcentia.
At Comcentia, you'll find rewarding technical challenges in a dynamic work environment that's businesslike, without being corporate. Comcentia fosters a family atmosphere with open concept work spaces, encouragement of business-casual attire, and open-communication welcomed.