YOUR COMPLETE END TO END PROJECT MANAGEMENT SOLUTION​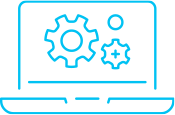 Finally , an end-to-end management solution
How It Works
Comcentia
fm
is designed with an intuitive user interface. It flags load data and informs on error items: train-as-you-go! Fm maintains all pertinent records including those required for compliance. Full consistent UI backups and downloads. Fm reporting engine built on SQL Server SSRs provides full spectrum of managerial and compliance reporting out of the box.
What FM Offers – Easy as 1,2,3
Contract Awards Management
In-House
Specific Task Contracting
IDIQ, JOC, and MATOC Contracts
Single & Multiple Contractors
Project Management
Work Requests and Order Management
Multiple Contracts per project capability
Invoicing Management
Deliverables Management
RFI, RFP's and Mods
Contractor & Subcontractor tracking
Milestone reporting
Utility Outages
Database of MEP services
Outage permits
Utility outage forecast reporting
Permit & Inspection management
Electrical system planning
Customizable Tree Distribution Structure Modules to maintain systems such as Gas & Water Distributions, Fire Control Systems, etc.
More features required? Comcentiafm is fully customizable to easily fit your needs.